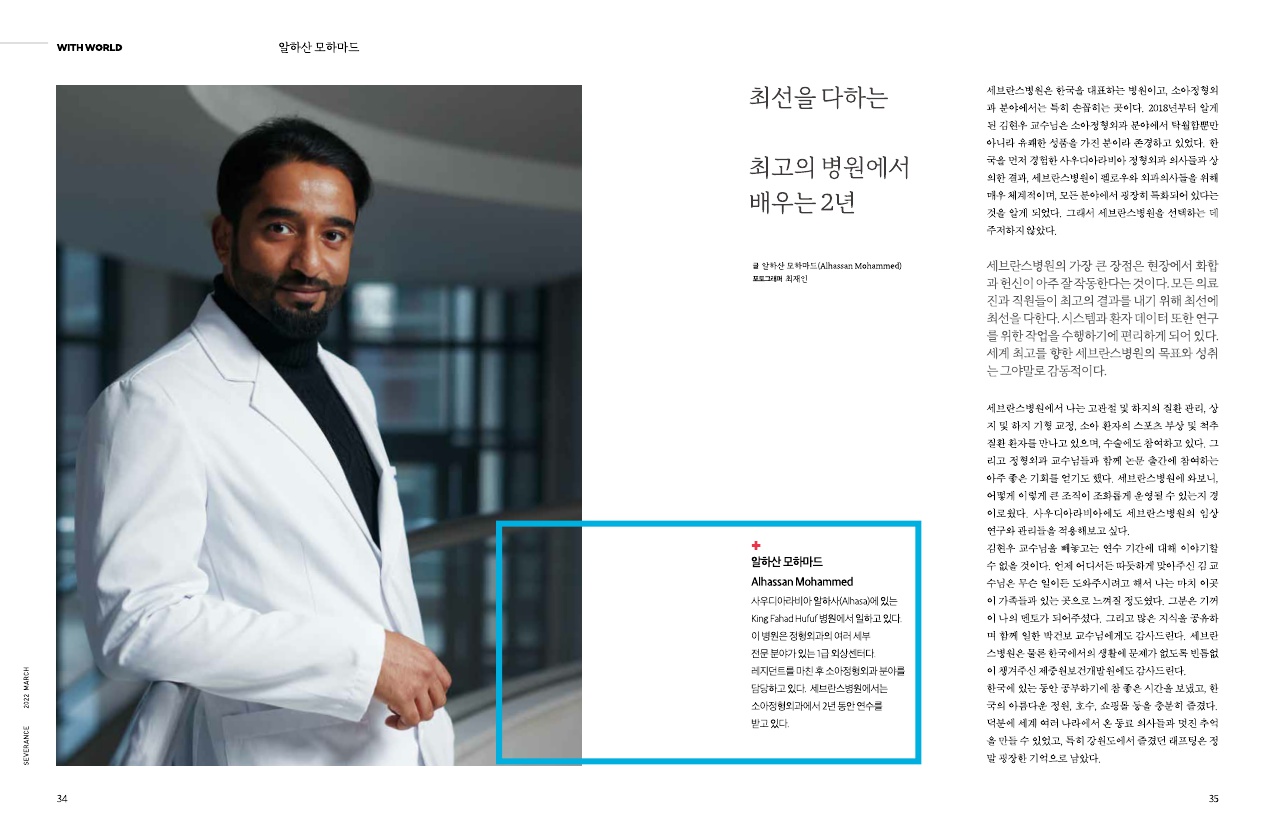 1) Please introduce yourself.



I am Dr. Alhassan Mohammed, 33 years old, from Saudi Arabia. I have 2 siblings in the medical field. One who is a pediatric gastroenterologist and the other is an emergency physician.
2) Where is your working place back in your country and what is your specialty?



I work in King Fahad Hufuf hospital, which is a major hospital in Alhasa that serves multiple subspecialities in orthopedic surgery and considered as level 1 trauma center along with medical and surgical fields.

I was working as pediatric and deformity orthopedic registrar along with adult trauma surgeon since I graduated from residency in general orthopedic program under Saudi commission for health specialties in 2018.
3) How did you get to know Severance? Why did you choose Severance as your training hospital?
Severance hospital is one of the biggest hospitals in South Korea, and South Korea is well known in pediatric orthopedic surgery.

I have been honored to be in contact with professor Kim Hyun Woo since 2018 who is very skillful, gentle and has a pleasant personality that I admire .

I had discussions with many Saudi orthopedic fellows in South Korea and I heard how Severance Hospital is organized in dealing with fellows and surgeons and very advanced and sophisticated in all subspecialities.
4) How long is your training period in Korea?
My training is 2 years period that includes major subspecialities of pediatric orthopedic surgery.
5) Which area did you focus on during your fellowship at Severance?
My training is mainly in neuromuscular and hip disorders, sport, trauma, spine and deformity correction in pediatric orthopedic surgery. I am enrolled in multiple research project as well.
6) What is the most impressive feature of Severance Hospital?
Severance hospital is the best example for harmony and dedicated work in such a mighty organization with a huge number of facilities, beds and operation rooms. All staffs show their best performance and work to be the best. System and patient data collection is easily accessible for research work. The hospital aims to be the best and the achievements are inspiring.
7) What are the specific contents of your fellowship program at Severance?
My fellowship focuses on management of neuromuscular disorders in hip and lower limb, upper limb and lower limb deformity correction, sport and spine in pediatric patients. I participate and perform surgeries. l attend outpatient clinic and follow the patients. I had best opportunity in research and publication with my professors.
8) What was your first impression of Korea?
Korea and Korean people have special social attitude that's mixed between their history with culture and development with technology. People are organized and raised on respecting everybody.

In Korea, I had a nice time to study and enjoyed hanging out with my family as there are many beautiful gardens, lakes and malls, they take care of every single detail to make the view attractive at all times of the year.
9) What is the best memory so far during your stay here?
I had many beautiful memories & I am very grateful for having time with international friends and fellows as we learn together and we could enjoy our time in Korea as we went one full day for rafting, which was an amazing experience.



10) Who are you most thankful for at Severance (who helped you the most) & why?
I have to mention professor Kim Hyun Woo, as he is very gentle and helpful to me and he is available for me at any time which makes me feel like I am a family. It is my pleasure to work with him, he is becoming my mentor. I have to express my gratitude to professor Park Kun Bo for sharing knowledge and work with me. I should not forget YIGH International Office and KHIDI for their assistance for make our life easy in Severance Hospital and Korea.
11) If you were to get the chance to come back, which field of clinical study would you like to focus on?
As I'm passionate about pediatric orthopedic surgery since I was a resident, I don't think I would join any other clinical field. But I would add clinical research and managements programs to get to know how such big centers can work in this harmony and reflect that on my country.