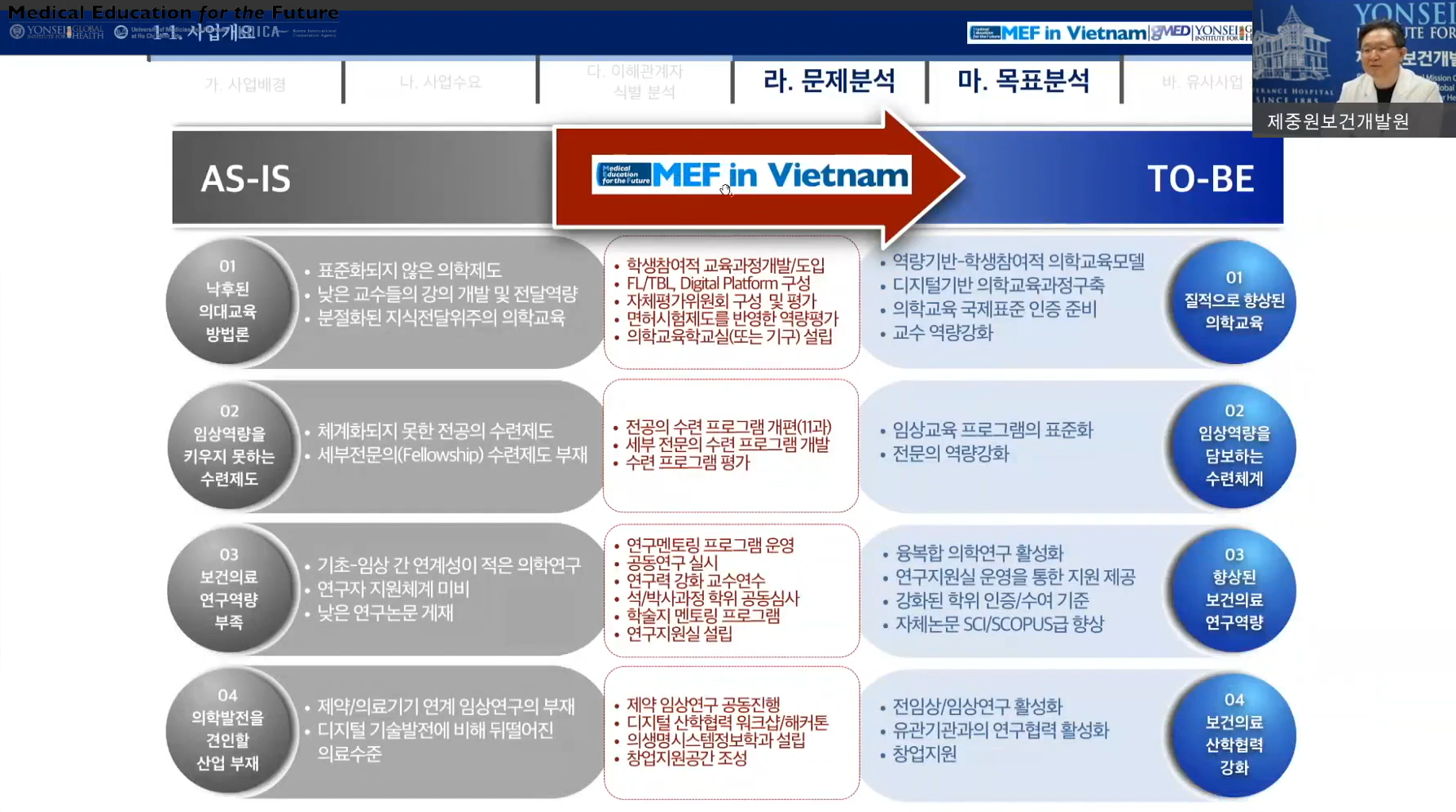 Overall
On February 24th 2022, Medical Education for the Future in Vietnam(MEFiV) introdcution ceremony took place via online from 12:20~13:20. The purpose of this ceremony was to introduce MEFiV project to Yonsei University Health System members and the interested parties actively participated in the ceremony.
The ceremony took off with the welcome remarks by Prof. Dong-Sup YOON(President of YUHS), Prof. Dae-Hyun Yoo(Dean of College of Medicine), Mr. Han-Duk Cho(Head of KOICA Vietnam Office), and Prof. Tran Diep Tuan(President of University of Medicine and Pharmacy at Ho Chi Minh City).
The MEFiV project takes a holistic approach to medical education transformation, with four sectors in action; medical education(Sector 1), clinical training(Sector 2), research capability(Sector 3) and industry-academic cooperation(Sector 4). This project will result in a breakthrough in the health and medical sectors of Vietnam.
Sector 1: Medical Education
The project aims for qualitatively improved medical education. We intend to establish a competency-based, student participatory medical education model and a digital-based education process by adopting a model such as flipped-learning and digital platform. Through these innovative education systems, students will cooperate more actively and they will be able to absorb the class material more efficiently and effectively. Moreover, we will prepare for the international standard certification of medical education and strengthening of professors' competency.
Sector 2: Clinical Training
The clinical training sector will be responsible for enhancing clinical capabilities in a qualitative sense. In this part of the project, we intend to standardize clinical education programs and strengthen the competency of specialists. Through these activities, it is expected that a training system that ultimately guarantees clinical competency can be established.
Sector 3: Research Capacity
The ultimate goal of the research sector is to strengthen Research Capabilities of Health Science in UMP at Ho Chi Minh. In Sector 3, we will reinforce research faculties, build an efficient research support system and improve the MedPharmRes. First, the Sandwich Fellowship Program for Professors will be open for invitation training in Yonsei University, which facilitates joint researches between UMP and Yonsei. Moreover, the Joint Thesis Program for graduate students will be open for the improvement and standardization of the criteria for Master/Ph.D degree. Secondly, a long-term plan for MedPharmRes will be established by the Journal Improvement Committee with members from UMP as well as Yonsei. Also, a Mentoring Program will be operated by Yonsei- Medical Journal and MedPharmRes editorial board members. Lastly, a Research Support System will be established at UMP to implement the efficient research support tools such as statistical Analysis and English proofreading, etc..
Sector 4: Industry-Academic Cooperation
The last sector of the project aims for quantitative and qualitative improvement in industry-academic cooperation activities. Despite the fact that Vietnam's industrial level is significant and its economy is rapidly growing, Vietnamese medical system still needs some improvement. Because industry-academic cooperation itself drives the development of the field of medicine, investment and development in this sector is likely to markedly contribute to the development of Vietnamese medical system. We aspire to activate pre-clinical and clinical research in this sector, as well as promote research cooperation with related institutions. The project also seeks to support start-ups. It is anticipated that the activities will strengthen industry-academic cooperation in health care.
Please click the link below to download the full video of the ceremony.
https://drive.google.com/file/d/1jDwJRRY5YKJ38EiQeOUJhO3X7NxFd42O/view?usp=sharing