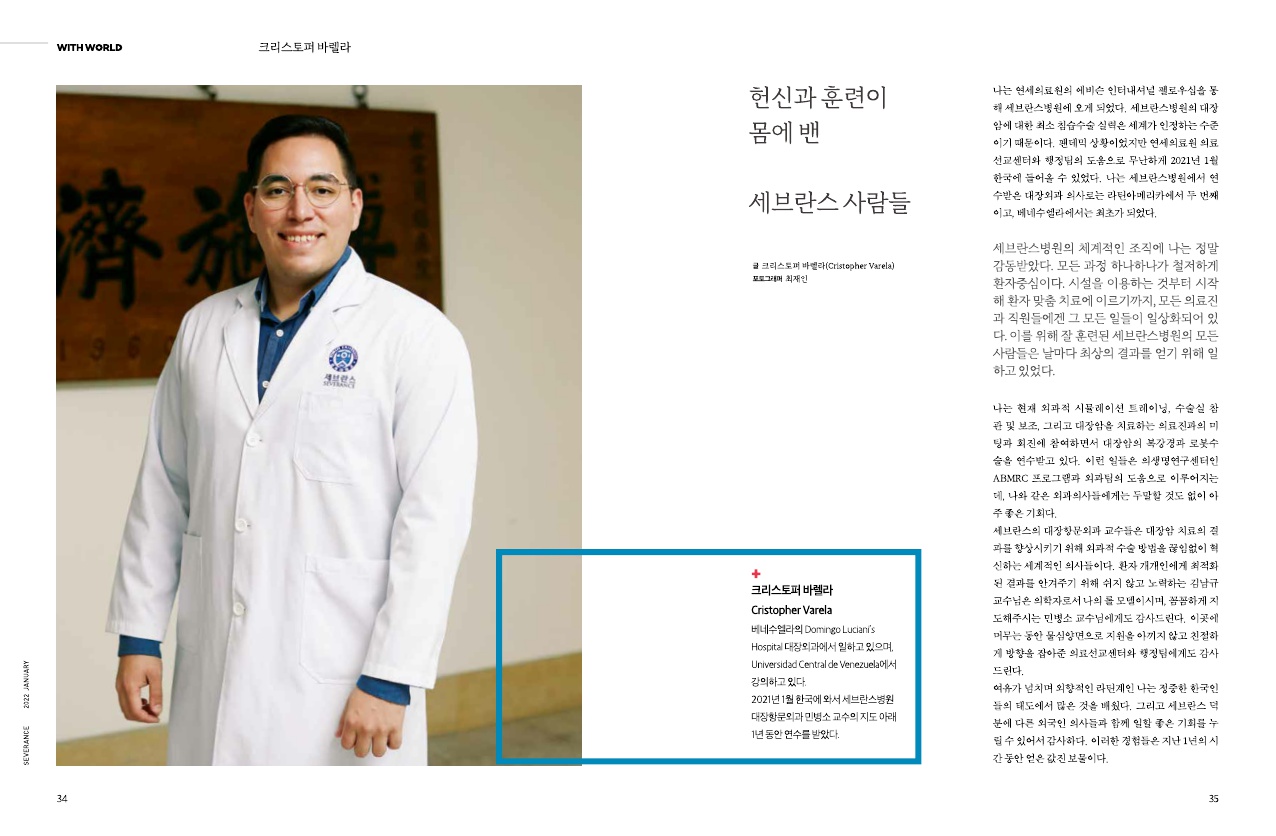 1) Please introduce yourself.
I am Cristopher Varela, 30 years old. My mother is a Medical Nutrologist, and my father is an Engineer in Agronomy. My sister is a Medical student in Venezuela.



2) Where is your working place back in your country and what is your specialty?



I work in Domingo Luciani's Hospital, the main hospital of the Venezuelan Institute of Social Security, Caracas city Level 1 Trauma Center, and teaching hospital to the Universidad Central de Venezuela. I have been a part of Domingo Luciani's surgical team since I started my surgical residency in 2014. During my residency, I became an instructor of the Integral Management of Polytraumatized Patients course (certified by the Pan-American Society of Trauma) and worked with the team of the Colorectal Unit. After completing my surgical residence in 2017, I was accepted into the Postgraduate training program of Colorectal Surgery, graduating in 2019 as Colorectal Surgeon. For the last two years, I have been working as an attending in the same General Surgery Department and Colorectal Surgery Unit. After 8 years working in Domingo Luciani's Hospital, I consider it my home.
3) How did you get to know Severance? Why did you choose Severance as your training hospital?
I was invited by the International Society of University Colorectal Surgeons (ISUCRS) to apply for the Avison's Scholarship coordinated by the Medical Mission Center of Yonsei Severance Hospital. Yonsei's Fellowship in Minimally Invasive Surgery for Colorectal Cancer is well known and admired in the ISUCRS, thanks to an excellent staff of Professors and the teaching work of Prof. Nam Kyu Kim with many international fellows. During 2020 and the pandemic situation, I stayed in communication with the International Office of Yonsei Institute for Global Health and the Medical Mission Center, who kindly helped me organize a safe trave to Korea in January 2021. I am the second Latin American colorectal surgeon to come to Severance Hospital and the first Venezuelan.



4) How long is your training period in Korea?
Initially, my training period was a 3-month observership, but Prof. Nam Kyu Kim and the Avison Scholarship through the Medical Mission Center's team helped me get a full-year scholarship to apply for hands-on training.
5) Which area did you focus on during your fellowship at Severance?
6) What is the most impressive feature of Severance Hospital?
The organization is the most impressive feature. All details are carefully taken care of: starting from the access to facilities, personalized patient care, and the staff daily working routine. With discipline and dedication, everyone in Severance works to get the best outcomes every day.
7) What are the specific contents of your fellowship program at Severance?
Surgical treatment and management of Colorectal Cancer through Laparoscopic and Robotic approach. My activities include surgical simulation training at the Avison Biomedical Research Centre (ABMRC), observing and assisting in the operation room, and academic meetings and rounds with Professors, residents, and co-fellows.
8) What was your first impression of Korea?
Korea can be a challenging social environment for Latinos. The respectful and formal social behavior, adding the social distancing rules at the start of 2021, it's a total contrast with our relaxed and extrovert manners in Caribbean countries. Nevertheless, I have happily managed to understand, adapt, and enjoy Korean culture and social etiquette rules. I'm sure I will keep many of it when I go back to Venezuela.
9) What is the best memory so far during your stay here?
I feel deeply grateful to have the opportunity to work with International Fellows from many different countries. The cultural exchange is the treasure I will keep from this year abroad. All the friendships forged in one year of being ex-pats in a foreign land, traveling, studying, and sharing achievements, success, and not-so-good situations as a newly formed family in Korea.
10) Who are you most thankful for at Severance (who helped you the most) & why?
I have to mention Prof. Nam Kyu Kim, who has become a medical role model to me, being a dedicated colorectal surgeon, fully committed to improving surgical techniques to guarantee optimal outcomes and keeping individualized patient care as the top priority. Also, the Medical Mission Center and the YIGH International Office team have accompanied me during all my stay in Korea, kindly helping and orienting me in all my activities.
11) If you were to get the chance to come back, which field of clinical study would you like to focus on?
Surgical teaching and training. I feel there is an open field and big chances of developing surgical training programs with the help of ABMRC and the Department of Surgery that can improve the surgical performance of surgical trainees (residents and fellows) in Korea and the rest of the world. Yonsei University counts with one of the most advanced surgical simulation centers for dry-lab, animal, and cadaveric lab training. A world-known staff of professors with standardized surgical techniques and constant innovations to improve the management of colorectal cancer.