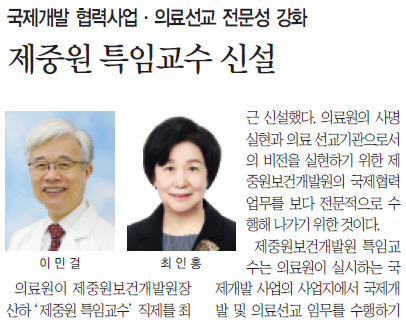 Yonsei Institute for Global Health has newly founded the Jejoongwon Distinguished Professor faculty position for the purpose of fulfilling the mission of Yonsei University Health System and the vision as a medical missionairy institution.
Jejoongwon Distinguished Professors will play an essential goal in education, research, and medical treatment within the countries where YUHS carries out Global Official Development Assistance projects.
Prof. Lee, Min Geol and Prof. Choi, In Hong are appointed as the first Jejoongwon Distinguished Professors at August 30, 2021.
As the international society is experiencing rapid changes in health and medical areas, Global ODA projects are recently becoming more crucial, which also leads to a high demand for expertise and systemized methods. The two Jejoongwon Distinguished Professors will meet the demand for professional knowledge and authority in this field.
Jejoongwon Distinguished Professor appoints professors who have retired from YUHS universities, including College(School) of Medicine, College of Nursing, College(School) of Dentistry, Graduate School of Nursing, and Graduate School of Public Health, according to the YIGH regulations.
The two professors will participate in the KOICA Education and Research Capacity Building Project at University of Medicine and Pharmacy at Ho Chi Minh City, Vietnam.