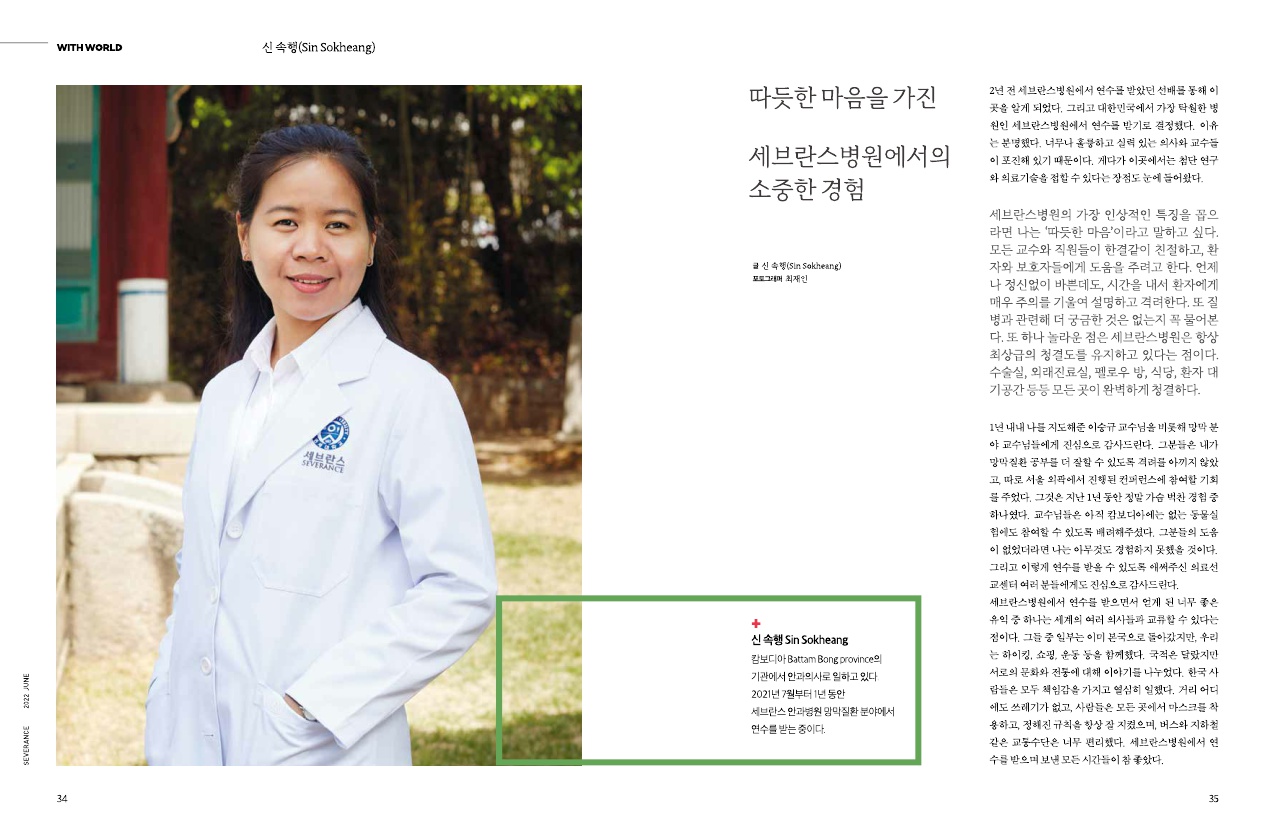 1) Please introduce yourself.



My name is Sin Sokheang. I'm 31 years old. I'm the 2nd child and I have 2 more siblings. I work in an Organization in Battam Bong province in Jesus Crew Center as an Ophthalmologist. I've known Severance Hospital from my senior who also had an opportunity to train here 2 years ago. I choose to train in Severance Hospital because it is one of the biggest and best hospital in South korea with a lot of capable and skillful professors and doctors. And there are a lot of advances investigate medical instruments here. I'm going to train here for one year from July 2021 until the end of June 2022. I come to Severance to train about surgical and medical retina.



2) What is the most impressive feature of Severance Hospital?
I think the most impressive feature of Severance Hospital is the hospitality. I observed that all the professors and health workers in Severance are very kind, patience and helpful to the patients. Regardless of how busy they are, they still take time to explain the patients very carefully and encourage the patients to ask any questions that related to their health. One more point is Severance hospital have a very high standard of cleanliness, everywhere is so clean: operation room, outpatient department rooms, bathroom, fellow room, restaurant, waiting room, are all very clean.
3) What are the specific contents of your fellowship program at Severance?
I come here to train in retina field, both surgical and medical part. Retina is the inner most, thin layer of tissue that lines at the back of the eye. I attend the surgery and clinical follow by my professor schedule. If I will get a chance to come back here again in the future, I would like to study more about Ophthalmology field but in different sub-specialty. As this time, I get the chance to study about retina I hope that next time I can learn different part such as oculoplastic, cornea or glaucoma.
4) What was your first impression of Korea?
My impression about Korea is that everyone works very hard and very fast with responsibility. On the street is hardly find the trash, everywhere is so clean. people wearing mask everywhere, and everyone respected the rule. Transportation is the best by subway and buses, so it makes us really comfort to go anywhere. Bicycle renting is available almost everywhere in Seoul.
5) What is the best memory so far during your stay here?
One of the best memories is when I got a chance to spend time with other fellow from other countries. I got many foreign friends who also currently training in Severance hospital and few of them already left to their own countries. We went to hiking, shopping and gym together once awhile. As we come from different countries, we have our own language, but we use English as a language to communicate with each other while we are in Korea. Sometimes we share and talk about our own culture and costumes.
6) Who are you most thankful for at Severance (who helped you the most) & why?
First, I would like to say thanks to the directors and all staffs at medical mission center for helping me with the documents and other stuffs since before I arrived in Korea. And thanks to Stephanie for her hard work related to my documents. And thanks to all retina professors at eye hospital for teaching me and guiding me for the whole 1 year. My retina professors have motivated me to learn more and give me a chance to join the conference outside Seoul city which is really a great experience for me during staying here. And they also allowed me to join the animal lab which we don't have in Cambodia yet. Without their help and effort, I really can't experience what I experienced today.
7)Please describe a special/troublesome experience you went through because of COVID19 during your fellowship.
The very first experience was the isolation once I arrived in Korea which I had to quarantine for 14 days and take 2 covid tests. One taken within 24 hours my arrival time and other one taken when my quarantine ended. And during my training, I remembered one time in the morning, before I get into operation room, I was told that one of our OPD patient that we had seen yesterday got infected with Covid 19 so that I had to take covid test. So, on that day I could not get to join the operation room. And during my holiday I had a plan to do drifting in the province, but I could only join if I tested the covid with negative result within 24 hours. So, I took another covid test. And another experienced happened on one of my holidays, I went to visit a family and we had lunch together. And I was told the next day that 2 of them were infected with covid so I had to do another test again.