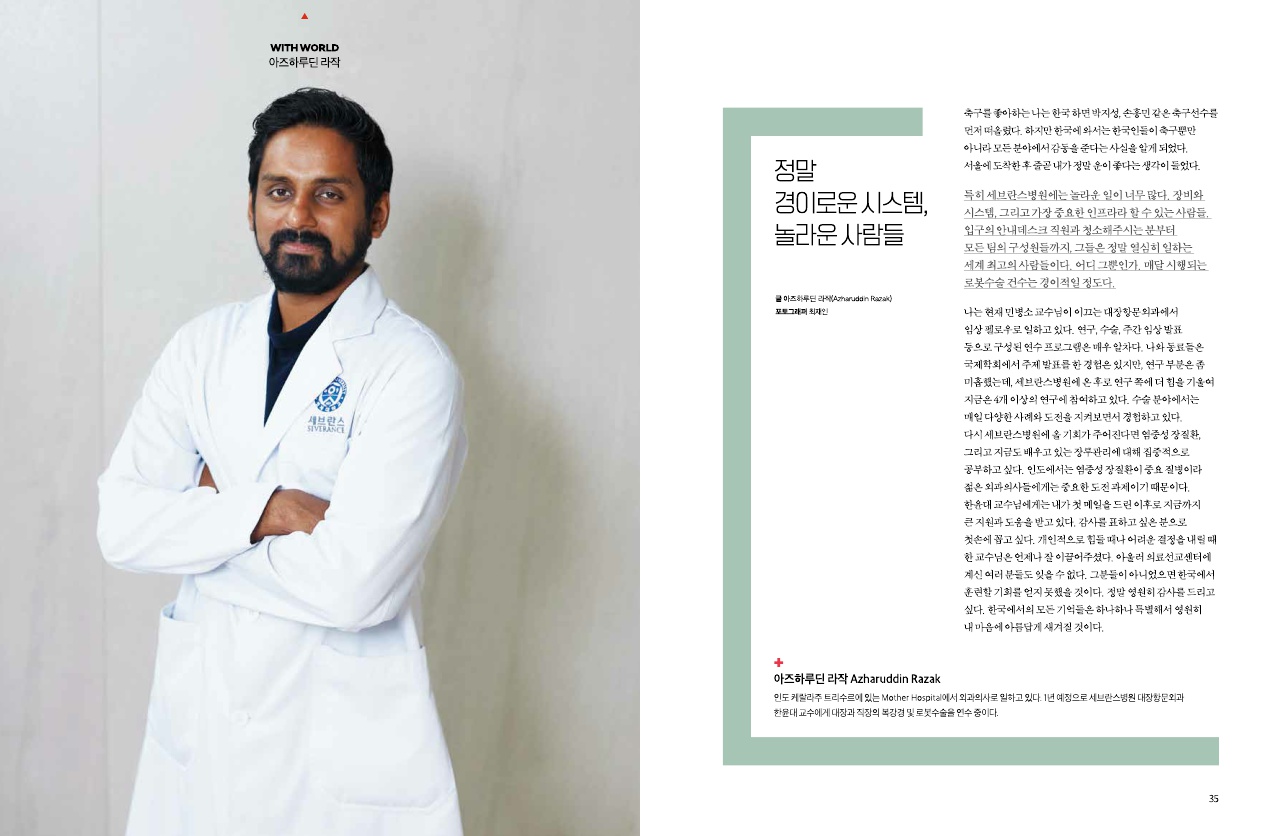 1) Please introduce yourself.


2) Where is your working place back in your country and what is your specialty?



Mother Hospital , Thrissur ,Kerala

Your specialty – General Surgery
3) How did you get to know Severance? Why did you choose Severance as your training hospital?
4) How long is your training period in Korea?
One year
5) Which area did you focus on during your fellowship at Severance?
6) What is the most impressive feature of Severance Hospital?
The hospital infrastructure impressed me the most, one of the best in the world. When I mention about infrastructure, it includes everything from equipments, access, IT, Systems and most importantly the staffs. Starting from the reception team to the cleaning staffs, every member of the team works very hard and is extremely helpful. The medical and surgical facilities, especially in the operating rooms are world class. The number of robotic surgeries done every month in some departments are phenomenal.
7) What are the specific contents of your fellowship program at Severance?
I am here as a clinical fellow in the colorectal department led by Professor Byung Soh Min. We have a structured training program which includes Research, Surgical training and weekly clinical presentations. Me and my co-fellows have also participated and presented topics in international conferences also.
Even though as a surgeon I had a decent experience, my research history was not adequate enough. After coming here, I am more in to research works and as of now I am part of 4 research works. And regarding surgical training, the wide variety of cases and challenges we observe and assist daily were beyond my expectations.
8) What was your first impression of Korea?
Ji Sung Park and Heung Min Son – 2 names that came to my mind when I heard Korea before arriving here. I am a soccer fan and I have followed the above mentioned Korean stars during their career. Nowadays, it's all about Heung Min Son.
But after coming here, I understood Koreans can impress not just in soccer, but also in every other filed.
My first thought after arriving here was that how lucky I am to be here. To live in a developed country like Korea and also being able to use the technological advancements including the advanced transport systems were pure pleasure.
9) What is the best memory so far during your stay here?
There has been plenty of beautiful memories that will be etched forever in me. Whenever I find time during weekends, I try to attend activities like hiking, cycling and adventure rides. One of my main intention behind such activities are to meet new people and hearing their experiences .People from all over the world join in for such activities and I learn more about their life and culture during such trips.
It will be hard for me to choose one single memory because each memories are very special for me.
10) Who are you most thankful for at Severance (who helped you the most) & why?
Prof . Yoon Dae Han
Ever since my first email, he has always been supportive and helpful in each and every matter related to my fellowship. And if I must name one, it will be his name for sure. He has also helped me when I had personal difficulties and always guided me in taking tough decisions.
Along with Dr Han, The Avison Medical Mission team led by Dr Pak and Dr Choi and the other team members - Mr. Kang , Ms. Sara and last but not the least Daniel has helped me throughout my stay.
If it was not for them, I wouldn't have got this chance of training in Korea, and I will be forever grateful to them.
11) If you were to get the chance to come back, which field of clinical study would you like to focus on?
If I were to get another chance, I would like to focus on inflammatory bowel diseases- Crohns and Ulcerative Colitis. In my country, IBD is major disease and probably a big challenge for young surgeons. Therefore, if I get another chance, my aim will be to focus on Inflamatory bowel diseases. Along with IBD, I am also keen in learning how to manage complex perianal and recto vaginal fistulas.